Quick Links: | Home | About the SPP hub | Get involved | Resources | Facebook |
---
Solent Initiatives
---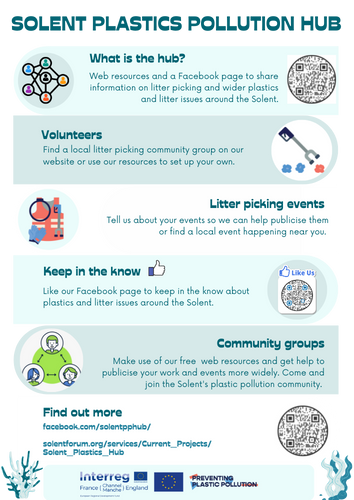 Solent Plastics Pollution hub Media Pack
Please help us to spread the word about the work of the Solent Plastic's Pollution hub using your printed and online media. To assist you we have prepared a media pack which contains copy for using in newsletters, social media posts and Tweets, an image to illustrate articles, QR codes that can be dropped into material for people to scan and an A4 infographic to print to attach to noticeboards.

---
Wildlife Aware Beach Cleans
To help people learn about the impact on wildlife when they're clearing litter from the beach, Bird Aware Solent joined forces with the Final Straw Foundation, the Marine Conservation Society and the 2 Minute Foundation to create some helpful guides. Litter-picking events are becoming more popular with local people and these new guides will help these community-minded projects minimise disturbance to wildlife that makes its home at the seaside.
---
MAPP Project
The MAPP project is a collaboration between citizen scientists, community members, and academics to crowdsource the data considered to be missing. This involves gathering and analysing everything from the distribution, volume, and type, to the possible sources of urban plastic pollution. The first step in achieving this has been to ask the residents of Portsmouth, UK to take to the streets in a series of 5 weekend long survey events. During these surveys, participants are asked to photograph any plastic waste that they can see, regardless of physical location or setting. When a photo is taken, the user's location is recorded and added to the local plastics heatmap; users can also label their photos with simplistic classifications of what they've captured. The next step for the project is to enhance this initial data set (photos, locations & categories) with the more in depth analysis available on the Zooniverse platform. These combined data sets will form the basis of workshop sessions with as many groups within the community as possible.
---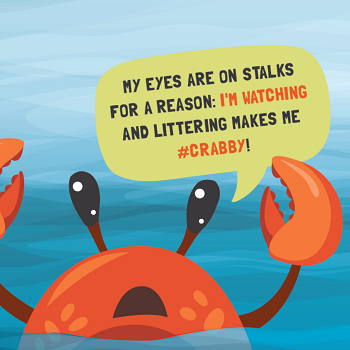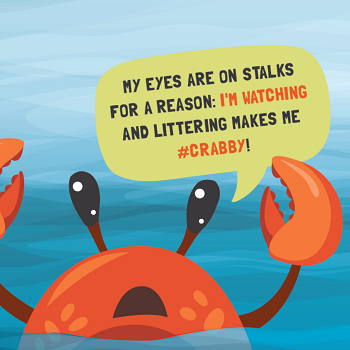 Crabby campaign
An innovative approach to tackling beach litter in the summer reduced litter at the New Forest coast by 10 tonnes, saving £10,000 in clean-up costs. The reductions followed the 'Crabby' coastal litter initiative carried out at Milford on Sea, Barton on Sea and Calshot during August 2020. The campaign, which used images of a giant crab, was aimed at tackling rising amounts of beach litter during the summer and included waste-bag dispensers at key spots, and messages to visitors 'Don't make me crabby, take your litter home'.
---
Single-use plastic free accreditation for recreational boating
The Green Blue and the Final Straw Foundation joined forces at the Southampton International Boat Show, 2021 to launch a Single-Use Plastic Free Accreditation. Aimed at inland and marine clubs, training centres and boating businesses, the new standard highlights responsible and innovative products and practices by organisations in the recreational boating industry. There are three levels of certification for organisations to rise through: Bronze, Silver and Gold. Each level is determined by the organisation's dedication to eliminating single-use plastic items from their activities. Suggestions can include, the removal of plastic cutlery, sustainable toilet rolls and eco-friendly cleaning products.
---
Boatfolk
The boatfolk marina group have marinas in Cowes, Portsmouth and on the River Hamble. They are introducing chilled bottle refill stations in all of their marina receptions and challenging their suppliers to avoid single use plastics. They are also rolling out refill stations for environmentally friendly cleaning products and encouraging customers to switch to solutions that don't harm the environment.
---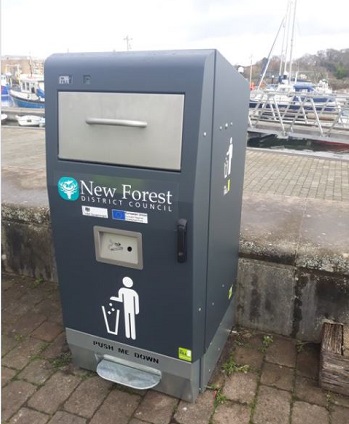 Solar Bins
Five solar bins have been installed at Lymington Quay as part of a pilot scheme. These high-tech bins use solar power to compact litter, meaning they hold much more than regular litter bins and need less collections.
Bigbelly bins have been installed across Southampton. The bins crush rubbish and tell when they need emptying. Powered by solar, they are available at locations across the city including Bitterne, Ocean Village and the city centre.
---
Revolution Plastics Portsmouth
The University of Portsmouth have established Revolution Plastics Portsmouth. From developing sustainable fashion to combatting microplastics, they are putting their research into practice, working with local groups, organisations, businesses and individuals to solve the plastic problem. They are assembling teams of scientists, business-leaders, campaigners and citizens who share our ambition to transform the way we make, use and dispose of this polluting material.
---
Fareham BC: No More Rubbish Excuses
Fareham Borough Council has a new anti-littering campaign 'No More Rubbish Excuses'. It is designed to help highlight and tackle some of the main issues experienced around the Borough including beachfront litter. To offer Fareham residents an additional incentive to dispose of litter in the appropriate way, the Council has teamed up with Litter Lotto. This scheme offers residents the chance to win on-the-spot cash prizes as well as a £10,000 jackpot, simply by throwing their litter away. To take part, residents are encouraged to download the Litter Lotto app using the QR code displayed on litter bins around the Borough. Then upload a picture showing litter being placed in in a litter bin for the chance to win.
---
---
---