Quick Links: | SPP home | About the SPP hub | Get involved | Resources | Facebook |
---
About the SPP hub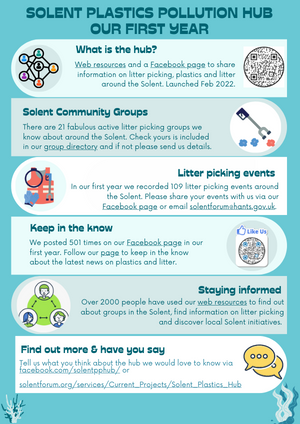 Introduction
The Solent Plastics Pollution hub (SPP) is an information hub to collate and publicise all the excellent work taking place around the Solent and its associated river catchments on reducing litter and preventing plastic pollution. It is in two parts:
1. This website that will host information on best practice guidance and resources to support existing groups and help people to create new groups.
2. A Facebook page to help inform the public about events and latest news. It can also be used to aid discussions between local groups, if needed. We also use it to post details of community grants and funding.
Our first year Annual Report 2022/23
Our hub launched in February 2022 and we have produced an annual report that sets our achievements.
Get involved
We would like both the Solent's coastal and river catchment communities to be involved with this hub, to encompass the whole water environment. We would love to hear from anyone who is running or co-ordinating litter collecting events, or those who are passionate about reducing plastics and litter in the water environment. The hub is free to access for all.
Join our hub by filling in our online welcome form. You can also give us feedback by clicking on the 'have your say' button or send your information or requests to solentforum@hants.gov.uk.
---
---
---