---
Microplastics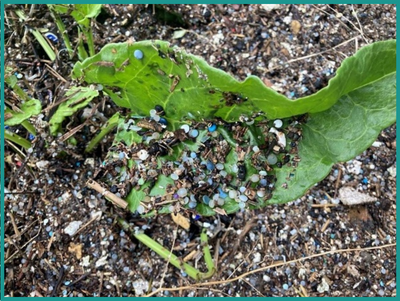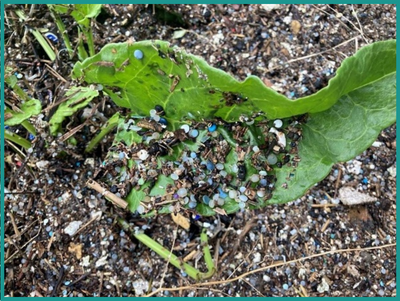 Nurdles, Chessel Bay
Introduction
Microplastics are small plastic particles that are generally between 1 and 5 mm although some are invisible to the human eye. Sources include industrial products such as plastic pellets, paints, abrasive cleaning agents, tyres, and personal care products such as toothpaste and skin cleaners (microbeads now banned). They also come from fragmentation and degradation of larger plastics pieces and fibres from synthetic clothing when washed.
How do Microplastics affect Water Quality?
After entering the sea microplastics tend to concentrate close to population centres, waterside businesses that use raw plastics materials and sewage treatment works. They have been found on beaches, in surface waters, seabed sediments and in a wide variety of marine life. They can affect water quality in the following ways:
Reducing the amenity value of beaches and riversides by creating plastic 'litter'.
Absorbing and concentrating contaminants from the surrounding seawater. This can create a secondary problem with toxicity for feeding coastal and marine wildlife.
Lodging in filter feeders such as shellfish.
Changing habitat functioning due to the presence of plastic in sediments, or on the shore or seabed.
What is the Water Industry Doing?
The water industry across the whole of the UK, including Southern Water locally, have been responding to these emerging concerns about microplastics. The UK Water Industry Research Group (UKWIR) have been researching microplastics in water company operations for several years.
Research by the WINEP Chemical Investigations Programme show that that the vast majority of microplastics in the wastewater system are removed in sludge. This however leads to a need to understand what happens to microplastics in sludge when, for example, it is spread on land. Investigations will continue in AMP8 (including research to look at potential sludge treatment processes to remove microplastics). Southern Water's Blue Innovation Team are working with the University of Portsmouth to baseline a higher resolution understanding of microplastics in wastewater systems.
Southern Water are:
Supporting the Water Research Centre (WRc) Knowledge Transfer Partnership application with Queen Mary University of London for a project funded by Innovate UK that will benefit the industry's understanding of microplastics. The two year project is expected start in December 2022.
Supporting and responding to the recent government consultation on banning plastic in wet wipes and other single use products; they cause sewer blockages and release microplastics into the environment as they degrade.
Producing a report on biobeads for the Environment Agency. Southern Water have five sites using biobeads including Sandown WwTW. However, this site uses an expanded clay media, and not plastic.
Nurdles and Pellets
Plastic pellets are pieces of plastic that form the building blocks of almost all plastic items manufactured; nurdles are small lentil-sized pellets that are the preproduction building blocks for nearly all plastic goods. Nurdles enter the marine environment in a number of ways but chiefly from production processes spilling into drains or directly into watercourses. They can also arise from shipping or port spills. Currents and wind can disperse them widely.
National action is required to understand the source of pellet pollution and its impacts. A study by Fauna sand Flora International entitled Stemming the tide: Putting an end to plastic pellet pollution makes a number of recommendations including all companies that handle plastic pellets be legally required to provide independent, third-party verification that pellet loss prevention measures are implemented, maintained and monitored.
Glass Microfibres
Glass Reinforced Plastic (GRP) boats have been produced in large volumes since the 1960's many of which are reaching end-of-life, there is a lack of legislation around disposal and recycling of these boats; the Solent has large numbers of GRP boats. There is emerging evidence that glass fibres from degrading GRP is affecting aquatic ecosystems especially estuarine habitat where fine sediment and organic material bind contaminants. The University of Brighton's Centre for Aquatic Environments is researching this issue in collaboration with Chichester Harbour Conservancy and other partners. Their work is looking at bioaccumulation of glass fibres in oyster tissues and the impact on zooplankton through the food web. They are also developing a new bio composite material that may absorb GRP shards/powder and are identifying the best areas to deploy and test this material. The Solent Forum are funding some of this work and a presentation was made to its Natural Environment Group in November 2021.
Marine Industry News have a great article on the issue of end of life disposal of boats - End game: What next for the end-of-life boat sector?
---
Solent Context and Issues
Solent Research
In 2016, Southampton Solent University published a paper on the prevalence of microplastics in the Solent. A Solent Forum placement student produced a further useful summary paper on whether microplastics in the Solent need to be addressed. The Solent University report concluded that the most common plastics were fiberous microplastics, closely followed by the microplastics found in cosmetics (now banned). Irregularly shaped microplastics were also found suggesting that there are new pieces of plastic breaking down within the complex. The River Itchen recorded large amount of microplastics compared with other sites; there is a plastic industry based complex on the river. The study showed that the highest levels corresponded with the presence of wastewater treatment plants.
In 2020, a student from the University of Portsmouth won a Prof Mike Clarke bursary award for his disseration - A Critical Investigation into Microplastic Accumulation, Transportation and Physical Processes in the Marine Environment in and around Langstone and Chichester Harbours, Central Southern England.
Portsmouth University is putting its research into practice to transform Portsmouth into a global showcase for how to achieve a sustainable plastics future. The city is home to an increasing number of organisations and groups advocating urban sustainability, ocean conservation and plastic waste reduction.
Work includes:
Preventing Plastics Pollution in the Itchen Estuary
Nurdles are a problem on the River Itchen owing to industry production processes that release them into the water environment. The Environment Agency and Southampton City Council have been working together for some years to try and prevent the source of the nurdle discharge and clean-up nurdle spillages. They are particular problem in Chessel Bay in Bitterne Manor. Local community group, The Friends of Chessel Bay, carries out regular planned litter picks at the site, but because nurdles are so small, it's very difficult to remove them especially when they are mixed in with reeds. In 2021, successful trials took place to suction and sieve out the nurdles; the University of Southampton continues to roll-out these trials in the Itchen using the River Hamble as a control site. In 2023, the Environment Agency and partners launched a partnership to address this issue, following a Stakeholder workshop and Feasibility Study led by Evolved Research & Consultancy (ERC). This report provides a valuable situational analysis of plastic pollution and its governance, stakeholder engagement, options for prevention, and next steps for the development of a future partnership.
---
Microplastics Initiatives
Local
National
---
---