National Evidence Gaps/Research Needs/Information Requirements
Discussions with Solent stakeholders identified areas where further information is needed on both marine invasive species and biosecurity pathway measures to facilitate local action. We have created a national actions page to address this to set out what additional information and resources those working on the coast would like to see to help them to implement local biosecurity actions. We envisage this page being helpful to national bodies with a remit to address marine invasives and academic institutions to guide them in their research work and give ideas for student projects.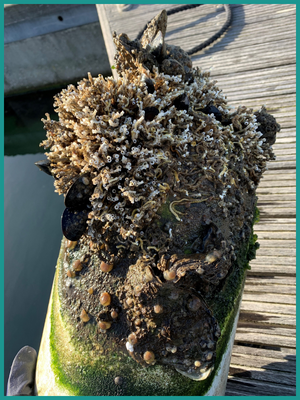 ---
1. Create a role description for a marine biosecurity lead and a short online e-learning module to explain their role
2. Create an online template for a biosecurity log book
3. Publicise and keep in print the free MBA 'Identification Guide for Selected Marine Non Native Species'
4. Create/adapt a citizen science APP where people can undertake a simple species scan to identify them and report if they are found to be a marine invasive
5. Set up/adapt an existing social media account to report on marine invasive sightings around the country and any new best practice published
6. Provide standard copy to insert in contractor and supplier specifications on marine biosecurity measures
7. Produce a standard biosecurity plan template for people to use when submitting a Marine Licence where this is needed as a condition.
8. Guidance needed:
How to manage and dispose of marine invasives from different waterside infrastructure, e.g. wood, steel, concrete, plastic, also include hydraulic pumps and rams
How marine invasives are likely to settle on different hull types, e.g. wood, aluminium, GRP, how long colonisation takes and what to do if found in terms of management and eradication
Installation of settlement panels, how to use them and next steps if marine invasives are found on the panels
The likely spread of marine invasives from the beneficial use of dredgings for habitat restoration and how this can be mitigated
Case studies with costings on how adopting biosecurity measures can save money by reducing fuel use, vessel and waterside infrastructure damage, kit longevity etc.
9. Develop (or add to an existing system) biosecurity accreditation to help marine operators select suppliers and contractors that carry out best practice
10. Provide online e-learning modules on best practice marine biosecurity measures, e.g. pressure washing, settlement panels
11. Produce a map of areas in the world that international ports should be most concerned about when ships arrive in terms of marine invasives being able to survive and colonise in the Solent
12. Create web resources for best biosecurity practice for undertaking habitat and species restoration
---