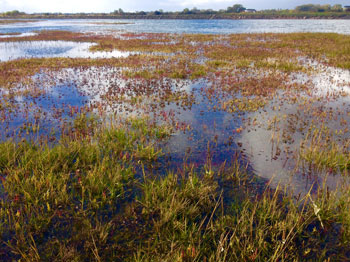 Solent European Marine Sites (EMS)
The Solent European Marine Sites (SEMS) is a collective name which covers internationally important areas in the Solent. It includes areas designated under the EU Habitats Directive as Special Areas of Conservation (SAC), areas designated under the EU Birds Directive as Special Protection Areas (SPAs) and areas designated as Ramsar sites. The Directive requires that all European sites are managed sustainably in order to protect the features for which the sites have been designated. SEMS covers the harbours, estuaries, areas of open coast and inshore water around the Solent. The site stretches from Hurst Spit in the west to Chichester Harbour in the east and includes areas along the north coast of the Isle of Wight from Yarmouth to Bembridge Harbour, as well as the mainland shores.
SEMS has its own website that details all of its work - SEMS website.
Management Scheme
As well as outlining specific provisions which need to be considered for new Plans and Projects in European sites, the Habitats Regulations identify specific provisions for European Marine Sites including methods for considering the management of ongoing activities through the production of a Management Scheme. Plans and projects are dealt with by other processes within the Habitats Regulations and are not included in the Management Scheme.
Although there is no legal requirement to develop management schemes, such schemes are generally accepted to be the most cost-effective and efficient methods of delivering Relevant Authorities' obligations under the Habitats Regulations (2010). The value-for-money provided by management schemes has been reported in 'A Review of Effectiveness of Management Schemes for European Marine Sites' (Department for Environment, Food and Rural Affairs, 2012). This document states that active Relevant Authorities' Groups generate a more efficient delivery of responsibilities because a better understanding of organisational remits, through effective and regular communication with other Authorities, leads to improved management of sites. Additionally, Management Schemes are conduits for communicating information to wider stakeholders and may be used to exercise functions such as byelaw-making powers, in order to appropriately manage the protected area.
The SEMS Management Scheme is jointly funded by the Relevant Authorities. There is a requirement to review the management scheme every five years.
SEMS Secretariat
The SEMS secretariat has been contracted to the Solent Forum to coordinate Management Group meetings and to act as a contact point for SEMS issues. It is the responsibility of each Relevant Authority to ensure that they continue to comply with the requirements of the Habitats Regulations. Since 2004, the Solent Forum have facilitated the SEMS annual monitoring and collated the responses into an annual monitoring report.